This Offering is Currently Under Review
Northville/Chip Lake Area of Alberta
319 boe/d (52% liquids)
$3.6 million in annualized NOI
919.2 Mboe of PDP & TP Reserves, 1.24 MMboe of 2P Reserves
PDP RLI of 7.9 years and 2P RLI of 10.7 years
Long Life Sweet Light (37.8º API) Oil Under Waterflood
Bid Deadline: August 10, 2023 at 4:00 PM MST
West 5 Resources Inc. ("West 5", or the "Company") has retained Earth Horse Energy Advisors ("Earth Horse") as its exclusive financial advisor and agent to assist with a corporate sales process. West 5's assets are located in the Chip Lake/Northville area of Alberta (the "Property").
Focused company with no employees, no severance, no office obligations, no debt and a working capital surplus of approximately $500,000
319 boe/d¹ (52% Liquids) of light (37.8º API) sweet oil producing from the Rock Creek Formation
Operated, high working interests in the Chip Lake/Northville area of west-central Alberta
Waterflood and well reactivations have improved production, cash flow and recovery of reserves
Net Operating Income ("NOI") of approximately $3.6 million per year¹
In November 2022, 30 e3m3/d of third-party production began being processed at West 5's 10-29 gas plant at a fee of $35.00/e3m
100% owned and operated infrastructure with a gas plant with NGL recovery
40 e3m3/d of firm service with TC Energy for natural gas delivery
PDP and Total Proved reserves of 919.2 Mbbl and 2P reserves of 1.241MMboe with a RLI of 7.9 years and 10.7 years respectively
LLR of 1.34 as at June 2023 which is expected to increase
Unbooked Infill drilling locations in the Rock Creek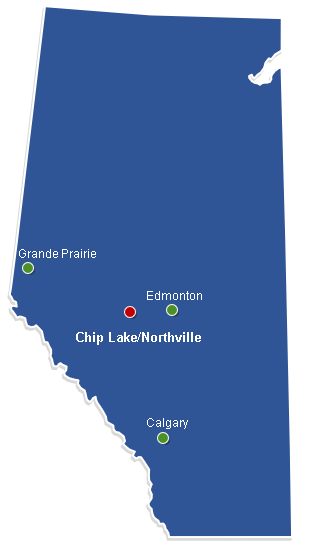 (1) Based on the January to April 2023 Lease Operating Statements for the Property which incorporates the processing income
(2) As of January 1, 2023 using various consultant's Q1 2023 forecast pricing
Northville/Chip Lake, Alberta
Township 52-54 Range 9-11W5
West 5 holds mainly high working interests in a total of 25 sections (16,000 gross acres) of land in the Chip Lake/Northville area of west-central Alberta, 65 km to the east of Edson.
West 5 holds working interests ranging from a 3.51% to 100% in a total of 61 wellbores. There are 18 producing wells on the Property.
The majority of the production from the Property comes from vertical Rock Creek wells in the Rock Creek "T" and "V" Pools. The Rock Creek "T" Pool is under waterflood.
The Rock Creek "T" Pool has 6-12 meters of net pay,
The land has no expiry issues and is held through a section 15 continuation.
During April 2023, the average net sales production from the Property was 319 boe/d, consisting of 145 barrels of oil and condensate, 23 barrels a day of natural gas liquids and 909 Mcf/d of natural gas. The oil is light, sweet at a 37.8º API.
Patriot Energy Marketing Inc. performs all of the West 5 marketing based on a 30-day termination notice. West 5 has 40e3m3/d of firm service with TC Energy for natural gas delivery. There are no firm commitments on its liquids and West 5 does not have any hedges in place.
Production from the Property has increased since West acquired the Property as the Company has reactivated wells and the Property has responded well to the implementation of a waterflood.
In July 2022, some wells went down due to bottom hole pump failures, as shown in the graph below. The wells were brought back online, restoring production to previous levels. There were additional workovers completed in February and March 2023.
The Property has cumulative oil production of 1.77 million barrels of oil and 38.9 Bcf of natural gas.
Production from the Property peaked in September 2009 when it reached 5.1 MMcf/d of natural gas and 427 barrels of oil per day. The Property had stable oil production from 2018 to 2020 and started to increase in 2021 once West 5 implemented a workover program which included repairs to the water injection system, simple workovers, and by performing turnaround work on its 05-13 battery and 10-29 gas plant.
Property Production Profile (1975 - Present)
Deloitte LLP provided an independent engineering report for the Property as at October 31, 2022, which was mechanically updated to a January 1, 2023, effective date. It is estimated that the Property has remaining reserves of 919.2 Mboe on a PDP and Total Proved basis and 1.241MMboe in 2P reserves with net present values of $12.2 million on a PDP and TP basis and $13.2 million on a 2P basis at a 10% discount using the average price forecast of various consultants for Q1 2023. The probable reserves consist of probable developed producing reserves. 
West 5 has not booked any potential upside for infill drilling or optimizations. Reserve net present values include full asset retirement obligations for all of the Company's assets as per NI 51-101.
The Deloitte reports are available in the virtual data room to all parties that execute a confidentiality agreement.
Forecasted Production and Decline
The Property has forecasted 2022 PDP and TP production of 258 boe/d.  Current actual production from the Property is outperforming the 2023 forecasted PDP reserves production by 61 boe/d or nearly 24%.
As shown in the graph below, the average forecasted annual decline from the Property is low at  8.6% on a PDP basis. The Property has a PDP RLI of 7.9 years.
West 5 has identified infill drilling locations and re-frac potential in the Rock Creek (9-14 and 3-12 wells) which has not been factored in the reserves by Deloitte.
During April 2023, the net operating income ("NOI") from the Property (including processing revenue) was $296,000 ($3.6 million on an annualized basis); the average monthly NOI of the Property from January to April 2023 was $297,000.
There were certain workovers on the Property which totaled $238,500 for the first four months of 2023.
In November 2022, West 5 starting processing 30 e3m3/d of third-party Rock Creek natural gas and liquids production at West 5's 10-29 gas plant via the 5-13 battery. For the first four months of 2023, processing revenue has averaged $33,000 per month and totaled $132,000.
During 2021 and 2022, West 5 completed a number of work overs on the Property. These work overs included repairs to the water injection system, pumpjacks, failed bottom hole pump reactivations, and facility work relating to the 05-13 and 10-29 gas plants. West 5 completed turnarounds on both facilities in 2022.
West 5 has completed much of the workovers required on the Property since it was acquired
As outlined in the chart below, the LLR ratio of the Property is 1.34 with deemed assets of $9,358,532 and deemed liabilities of $6,981,300 resulting in a net deemed value of $2,377,232.
West 5 has scheduled seven wells to be cut and capped by July 2023 which will continue to improve the LMR.
The Company has recently completed 15 Phase 2 site assessments, identifying only one location that required additional remediation prior to reclamation and detailed site assessment.
As outlined below, the LLR of the Property has been increasing since West 5 acquired the Property. West 5 implemented a workover program which included the reactivation of wells and completed a full update of the site-specific liability assessment for the 10-29-053-10W5 gas plant which was submitted to AER at the end of January 2022 . These operations greatly increased the net deemed asset value of the Property from a negative value of 458,444 to the current net deemed value of $2.4 million, a change of approximately $3.0 million.
Bid Deadline: August 10, 2023 at 4:00 PM MST